List Of Classes
"Confidence comes from discipline and training."
– Robert Kiyosaki
"It's all to do with the training: you can do a lot if you're properly trained."
– Queen Elizabeth II
"You are your greatest asset. Put your time, effort and money into training, grooming, and encouraging your greatest asset."
– Tom Hopkins
"You can work really hard, but if you're not training in the right way you're not going to improve and get to the level that you want to."
– Michael Chang
"It's all about training smart."
– Tyson Gay
"What you do today can improve all your tomorrows."
– Ralph Marston
"The will to succeed is important, but what's more important is the will to prepare."
– Bobby Knight
"You are never too old to set another goal or to dream a new dream."
– C. S. Lewis
"By failing to prepare, you are preparing to fail."
– Benjamin Franklin
"What you get by achieving your goals is not as important as what you become by achieving your goals."
– Henry David Thoreau
Laser Shot Scenario Training
Judgmental Training Software (JTS) is Laser Shot's latest advancement in firearms training technology which provides effective judgmental training through the use of interactive, HD video scenarios.
Advanced judgement and critical thinking skills are required to decide if and when you should shoot during a rapidly unfolding encounter. Factor in shooting at moving targets and Laser Shot offers a level of training that isn't possible on a square range.
Gun Kraft is proud to offer this simulator training to the general public. We believe advanced scenario training is vital to anyone who chooses to own a firearm for self-defense.
This is NOT an NRA-approved course
Note: Instructors who teach a mix of courses are required by the NRA to clearly distinguish which have been developed by the NRA and which have not. It is not a reflection on the course other than to say the NRA has not reviewed its content and thus can't give its approval.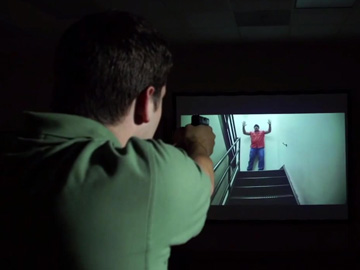 The course fee is $75 for one hour of personal instruction using the shooting simulator.
Email To Book
---