List Of Classes
"Confidence comes from discipline and training."
– Robert Kiyosaki
"It's all to do with the training: you can do a lot if you're properly trained."
– Queen Elizabeth II
"You are your greatest asset. Put your time, effort and money into training, grooming, and encouraging your greatest asset."
– Tom Hopkins
"You can work really hard, but if you're not training in the right way you're not going to improve and get to the level that you want to."
– Michael Chang
"It's all about training smart."
– Tyson Gay
"What you do today can improve all your tomorrows."
– Ralph Marston
"The will to succeed is important, but what's more important is the will to prepare."
– Bobby Knight
"You are never too old to set another goal or to dream a new dream."
– C. S. Lewis
"By failing to prepare, you are preparing to fail."
– Benjamin Franklin
"What you get by achieving your goals is not as important as what you become by achieving your goals."
– Henry David Thoreau
You Call The Shots
Personalized training based on what you want to learn.
Book a class with your friends and receive a day's instruction on any topics you desire. Make it a social event where you hang out with your friends for a day and learn something new together! Great for company team bonding events. Please call in advance to discuss the proposed course outline prior to booking.
This is NOT an NRA-approved course
Note: Instructors who teach a mix of courses are required by the NRA to clearly distinguish which have been developed by the NRA and which have not. It is not a reflection on the course other than to say the NRA has not reviewed its content and thus can't give its approval.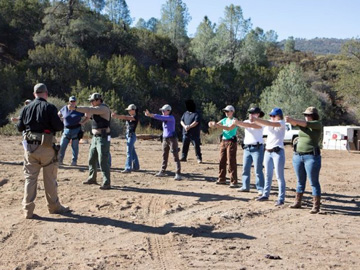 The minimum course fee is $1500 for up to ten people. Each additional person is $150. You will need to bring a handgun, at least three magazines (or speedloaders for a revolver), ammunition (amount varies by class), eye and hearing protection.
Email To Book
---