List Of Classes
"Confidence comes from discipline and training."
– Robert Kiyosaki
"It's all to do with the training: you can do a lot if you're properly trained."
– Queen Elizabeth II
"You are your greatest asset. Put your time, effort and money into training, grooming, and encouraging your greatest asset."
– Tom Hopkins
"You can work really hard, but if you're not training in the right way you're not going to improve and get to the level that you want to."
– Michael Chang
"It's all about training smart."
– Tyson Gay
"What you do today can improve all your tomorrows."
– Ralph Marston
"The will to succeed is important, but what's more important is the will to prepare."
– Bobby Knight
"You are never too old to set another goal or to dream a new dream."
– C. S. Lewis
"By failing to prepare, you are preparing to fail."
– Benjamin Franklin
"What you get by achieving your goals is not as important as what you become by achieving your goals."
– Henry David Thoreau
Satisfies the training requirements for Utah, Arizona, Florida, Virginia and Oregon.
This course is four hours long and satisfies the training requirements to obtain a non-resident concealed carry permit from Utah, Arizona, Florida, Virginia and Oregon. Range qualification is only required to apply for a Florida permit. We also provide assistance filling out the application and provide fingerprinting services for a small fee.
Student reviews:
"Excellent instruction. Expert knowledge."
"He not just gave the bare minimum of information required, but gave a lot of useful information that made the class really interesting. There are people that know what they are talking about and there are those that can actually teach. Robin possesses both of those qualities."
"Could easily have kept going, is there a longer course offered?"
"I learned many things I did not expect would be included as part of this course. If you value a level headed individual with decades of experience who delivers valuable information in an unpretentious manner, Robin is your guy."
"Awesome instructor, very knowledgable, engaging lecture."
This is NOT an NRA-approved course
Note: Instructors who teach a mix of courses are required by the NRA to clearly distinguish which have been developed by the NRA and which have not. It is not a reflection on the course other than to say the NRA has not reviewed its content and thus can't give its approval.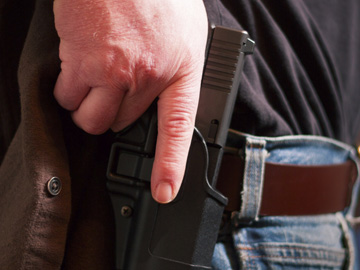 The course fee is $75. Fingerprinting services are available for $20 per state for Utah and Arizona fingerprint cards.
---