List Of Classes
"Confidence comes from discipline and training."
– Robert Kiyosaki
"It's all to do with the training: you can do a lot if you're properly trained."
– Queen Elizabeth II
"You are your greatest asset. Put your time, effort and money into training, grooming, and encouraging your greatest asset."
– Tom Hopkins
"You can work really hard, but if you're not training in the right way you're not going to improve and get to the level that you want to."
– Michael Chang
"It's all about training smart."
– Tyson Gay
"What you do today can improve all your tomorrows."
– Ralph Marston
"The will to succeed is important, but what's more important is the will to prepare."
– Bobby Knight
"You are never too old to set another goal or to dream a new dream."
– C. S. Lewis
"By failing to prepare, you are preparing to fail."
– Benjamin Franklin
"What you get by achieving your goals is not as important as what you become by achieving your goals."
– Henry David Thoreau
Everything you need to know as a new firearm owner.
This three hour introductory course is designed for those who are considering the purchase of a firearm or new owners of firearms. It takes place entirely in the classroom and covers nomenclature, safe handling, fundamentals of shooting, cleaning, storage, and applicable laws.
Student reviews:
"The instructor was great. Very relatable and down to earth."
"He was very knowledgeable and took the time to answer all questions."
"It was great to learn the basics of handling a firearm and what the process is to keep yourself safe.
"The workings of the law was new to me so it was extremely helpful."
"Great class, really interactive, allowed for discussion and questions."
"It's rare to meet law enforcement professionals with Robin's ability to teach, be friendly and affable. I really didn't think I would gain much but was proved wrong. Thanks!"
This is NOT an NRA-approved course
Note: Instructors who teach a mix of courses are required by the NRA to clearly distinguish which have been developed by the NRA and which have not. It is not a reflection on the course other than to say the NRA has not reviewed its content and thus can't give its approval.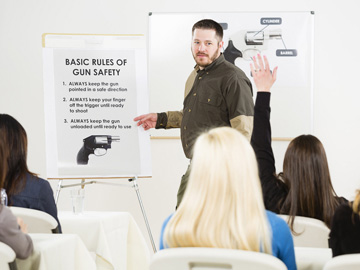 The course fee is $75. You may bring your personal firearm if you wish but it is not required. We will handle various revolvers and semi-automatic pistols during the class.
---